Urban planters for underground containers
A stylish and convenient solution to refresh your urban recycling areas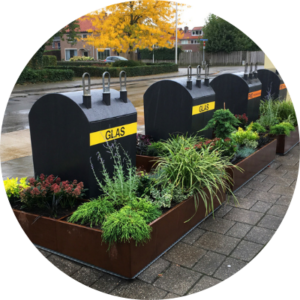 Will underground containers soon become standard ?
Our local councillors have a duty to propose local solutions to global warming. As an example, in terms of encouraging recycling, door-to-door waste collection is now becoming less and less common.
Citizens are used to recycling at home and then going to their nearest drop-off point. Recycling areas equipped with underground containers are now part of our daily urban life.
Originally this was just for glass, but now paper, cardboard, packaging, corks, plastic packaging (PET) and sometimes even compostable waste and household waste are collected in this way: this is a great improvement! This means that waste is better recycled and sorted thanks to the services of specialised companies.
So everything is going well? Well, not really!
Do underground containers have any disadvantages?
The answer is yes (but we are going to help you)
First of all, some people consider these spaces to be waste disposal centres. They tend to dump their bulky items, green waste and even hazardous waste. This waste piles up near the containers. The technical services often have to deal with these recycling faults.
On the other hand, underground containers are installed for reasons of smell and design. The problem? Smells and illegal dumping! Who has never seen the containers covered with bin liners?
We have solutions!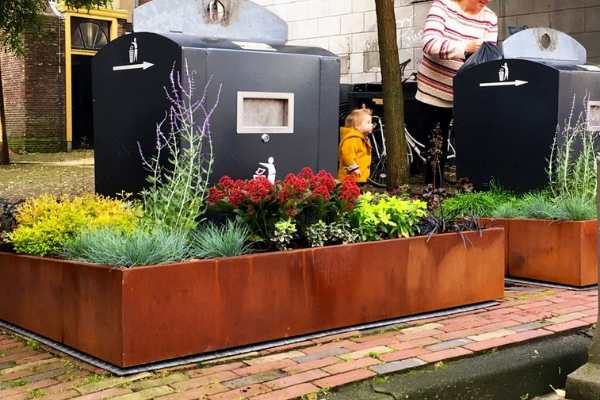 What is our solution to fight against illegal dumping and bad smells?
The urban planter, or "minigarden"! Made from 100% recycled plastic, they help to refresh the urban environment.
The planters placed around the underground containers help to :
enrich biodiversity in the city thanks to the species that will take up residence there
restore green vitality to your public spaces by reintroducing plants
create a pleasant social space to recreate links between your residents
This green innovation limits illegal dumping since the planter is attached to the container. It is therefore impossible to put bin liners or rubbish on the covers of the containers.
The urban planter is printed with a 3D printer, making it very robust. It will also embellish the waste disposal areas by adding a touch of scent depending on the species you plant (lavender, thyme, rosemary... you can already feel the good smells and the cicadas singing!)
Who are the urban planters for?
Local communities, Public organisations and Shared recycling spaces